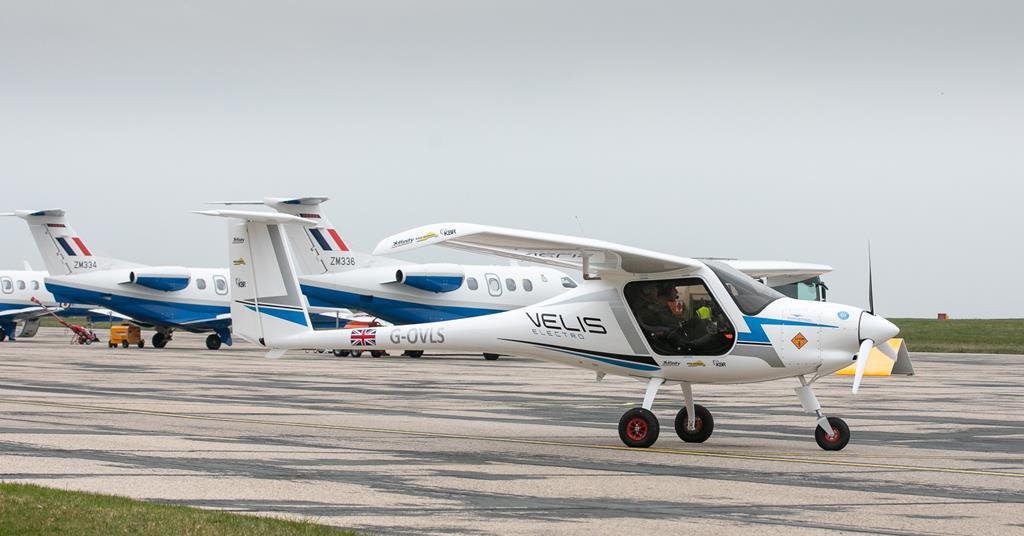 UK military training provider Affinity tests Velis Electro to zero emissions | News
Affinity Flying Training Services spent approximately four months evaluating Pipistrel's Velis Electro all-electric ultralight aircraft, including flights performed as part of a sustainable aviation exploration activity for the UK Department of Health. Defense.
Announcing the development on April 13, the Elbit Systems UK/KBR Affinity joint venture said it is "supporting the UK Ministry of Defense on a series of battery-powered flights to assess environmentally friendly alternatives for future military flights".
Flight tracking website Flightradar24 records one of the two-seater planes – registration G-OVLS – as having made several flights from the Royal Air Force (RAF) Cranwell site in Lincolnshire in the past month. Images released by Affinity also show an aircraft bearing the registration G-OEKO.
"The flights are intended to help the Royal Air Force assess electric aircraft technology, determine their potential for use in military service and deliver on the net zero ambitions of the service's ASTRA campaign," Affinity said.
The company is responsible for training pilots under the auspices of the UK's Military Flying Training System programme, operating fleets of 23 Grob Aircraft G120TPs, 14 Beechcraft T-6Cs and five Embraer Phenom 100s. Since beginning service provision in 2016 , these assets provided a combined total of 38,000 instruction flight hours, it says.
"The zero-emissions aircraft testing concept, and the Pathfinder that followed, was proposed to the Department of Defense by Affinity," the company notes, while pointing to its track record of providing "engineering services." innovative supply and maintenance".
"The introduction of this Pathfinder demonstrates the company's commitment to providing innovative solutions to the UK Armed Forces and meeting the needs of the future," he added.
The RAF has previously set out its ambition to acquire an emission-free type to provide future basic flight training services through an activity called Project Telum. He also flew his own runway last November with an Ikarus C42 ultralight using 100% synthetic aviation fuel, during a sortie from Cotswold Airport at Kemble in Gloucestershire.
Affinity says it purchased Velis Electros through Fly About Aviation, with maintenance activities carried out in partnership with Eastern Airways. The Slovenian-built aircraft is fully certified by the Civil Aviation Authority of the United Kingdom and the Aviation Safety Agency of the European Union.
"Affinity and its shareholders are proud and excited to be part of this program to guide sustainable aviation and in doing so further support the Royal Air Force and the UK Ministry of Defense as they move closer to their net zero goals," Affinity chief executive Iain Chalmers said. "Our ambition is to continue to promote innovation and sustainability in our work in the military and government spheres in which we operate."
BAE Systems also announced last month that it was acquiring a single example of the 600 kg (1,320 lb) Velis Electro to support flight test activities at its Warton site in Lancashire from the end of this year. It has also entered into a collaboration with Pipistrel to explore future military applications of electric aircraft technologies.