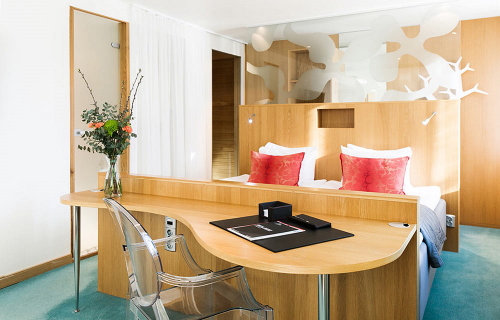 Ligula Hospitality chooses Atomize as RMS supplier
(Dec 01, 2021)
Ligula Hospitality chose Atomize as their Revenue Management Software (RMS) provider.
Based in Sweden, Ligula has 45 properties with 6,060 rooms across 6 brands in Sweden, Denmark and Germany.
Ligula will deploy Atomize across its entire portfolio of brands, namely: ProfilHotels By Ligula, Collection By Ligula, Motel L By Ligula, Good Morning Hotels By Ligula and Apartments By Ligula.
Room at Profil Hotels Aveny by Ligua in Umea, Sweden
The decision to work with Atomize was taken after benchmarking performance in 10 hotels on full automation.
"Our team was impressed with the fully automated yield performance Atomize provided during the reporting period. Atomize is a next generation RMS solution and we are confident that the application will help us grow by increasing our revenue, while increasing the overall operational efficiency of our staff, "said Fredrik Ternsjö, Head of Revenue, Distribution and systems at Ligula Hospitality.
Atomize offers a real-time price optimization engine, a multi-property dashboard, information on future demand, and offers seamless two-way integration with PMS providers.
"Atomize is very happy to partner and grow with Ligula. We are experiencing increased global demand for lean, fully automated and responsive revenue solutions from hotel groups. In order to run a large-scale, sustainable operation, hotel groups must protect their cost base and at the same time reap the benefits of automation, "said Alexander Edström, CEO of Atomize.