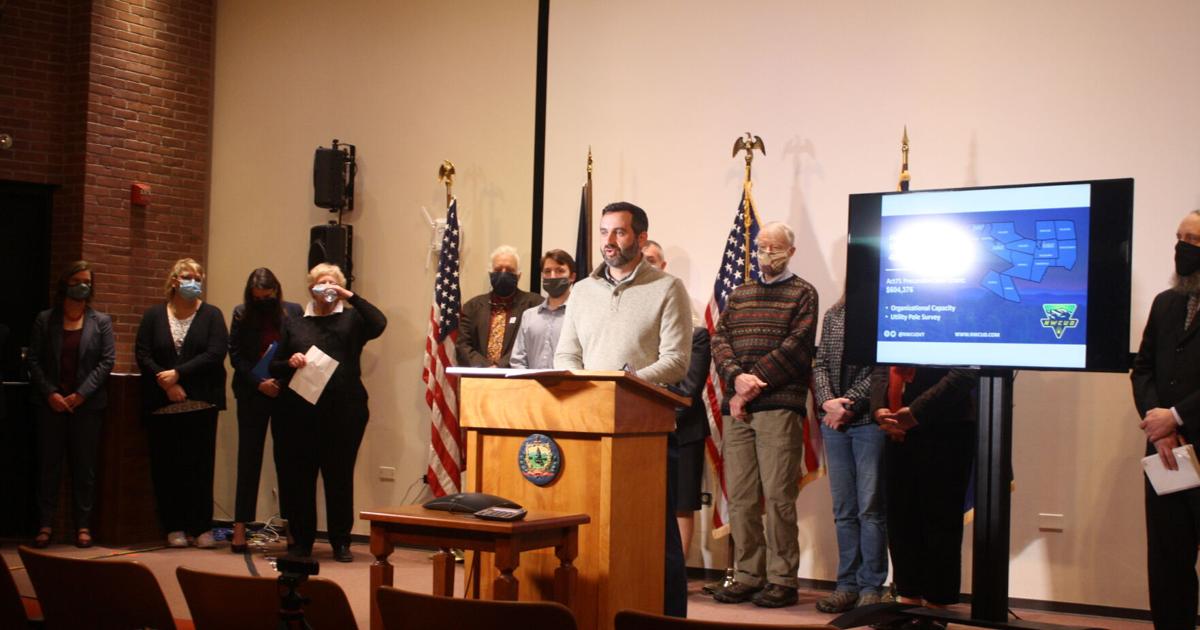 Google Fiber will be the first Internet Service Provider to sign with Northwest FiberworX and Lamoille Fibernet | News
FRANKLIN COUNTY – Communities in Franklin and Lamoille counties that remain underserved or completely unserved in terms of Internet access may in the future have an option for faster Internet services: Google Fiber.
Northwest FiberworX (NWFX) and Lamoille Fibernet (LFCUD) are in "advanced discussions" with Google Fiber to recruit the Internet Service Provider (ISP) as the first Communications Union Districts (CUD) to provide service through the planned new network.
Although there are many issues to resolve, a deal is on the horizon and the two entities hope to finalize it within the next three to six weeks, said Sean Kio, executive director of NWFX.
Google Fiber will provide CUDs with guaranteed pay-per-address over the next 30 years, providing a minimum of $45.8 million in guaranteed revenue for CUD, according to a fact sheet provided by the Vermont Community Broadband Board (VCBB). .
The money will go towards building the network which will cost an approximate total of $109 million. The rest of the money will come from grants from the VCBB.
Until about four months ago, NWFX (formerly Northwest Communications Union District) was entirely volunteer-based. However, in November, Kio became the entity's first full-time employee.
The agreement with Google Fiber is the first of what Kio hopes will be many with other ISPs. NWFX and LFCUD strive to adopt an "open access" model, in which they recruit multiple ISPs and encourage competition.
The deal also signifies a partnership between NWFX and LFCUD in an effort to make the expanded area more attractive to future ISPs.
"By joining forces, CUDs represent a broader population, which improves economic efficiency by working with broadband consultants, service providers and network operations providers," said Val Davis, Executive Director from LFCUD in a March 9 press release.
The idea is for the area covered by CUDs to become a "marketplace for ISPs," Kio said.
The goal of the planned network is to universally serve all homes and businesses currently not connected to a fiber network. If and when multiple ISPs connect, users will be able to choose their own service provider instead of being limited to one option.
A deal with Google Fiber is the first step toward that goal, Kio said.
What the consumer will pay
The way the relationship between the CUD, the ISP and the consumer is structured is that the CUD owns, operates and maintains the infrastructure. Then Google Fiber, or any other ISP, will pay access fees to use the network and provide consumer and business services.
The consumer would then pay the ISP for the service and pay infrastructure fees to the CUD to maintain and operate the network. NWFX maintains that even with the infrastructure fee, prices will still be lower than what other ISPs offer for the same service.
Kio said that in conversations with several ISPs gauging interest in a deal, the reaction ranged from cautious readiness to outright skepticism about the plan.
"Google Fiber is a big enough entity that they're willing to take the risk with us," Kio said. "And there was a strong alignment of ideals and what the CUD stood for."
The stated goal of CUDs is to address broadband inequities in Vermont.
"These CUDs are committed to bringing fiber-optic internet service to every home and business in their districts – in one of the most rural states in the country – and we're excited to talk to them about how Google Fiber can help make it happen," said David Finn, chief development officer of Google Fiber in a March 9 press release. "We hope this project will become an example for many other communities who need fast, reliable."
One of the main things Kio said was interesting about partnering with Google Fiber is the fact that it won't charge a different service rate in Vermont than it charges elsewhere in the country.
"They're not going to charge 30% more just because it's rural Vermont," Kio said. "So that was one of those things that we found really intriguing. The rates are already very competitive, so we felt it was a win-win there.
Although Google Fiber prices are subject to change, current rates are $70 for 1 Gig AND $100 for 2 Gigs, according to the VCBB fact sheet. The fact sheet also notes that prices have not changed for more than 10 years.
Google Fiber has also pledged to offer a $30/month plan to any household eligible for the Affordable Connectivity Program. This program offers a subsidy of $30/month.
Infrastructure costs, which all go directly to CUD to cover maintenance and operation of the network, would not exceed more than $15/month.
Why it's hard to win a company's interest
The reason these communities are underserved in the first place comes down to profit.
"Unserved and underserved people in rural areas today are unserved because there really is no business case," said VCBB chief executive Christine Hallquist. "No one has come to serve these rural areas because they are going to lose money."
Therefore, the huge amount of money coming from the state to build these networks is intended to make it a better business case, Hallquist said.
What makes the agreement and vision for NWFX and LFCUD unique, however, is their open access component.
Kio said if things pan out, the model would be the only one of its kind in Vermont.
Other CUDs have agreements with ISPs, enlisting them as full partners in the project, helping with design and construction.
Hallquist said most ISPs wouldn't enter into an open access agreement because, in business terms, companies generally don't like competition.
"Most vendors don't want anybody else on the system there," Hallquist said. "They don't want to do open access because if it doesn't make sense for one vendor, it certainly doesn't make sense for two, so most vendors wouldn't make those kinds of deals. What's unique is that Google Fiber says, "We don't care about the competition, because we think we're the best." We welcome competition.
A commitment to data privacy and net neutrality
Kio said that as part of the agreement, CUD makes data privacy and net neutrality commitments for Google Fiber, insisting that there is protective language in the agreement for consumers. .
"The good thing is that CUD owns, maintains and operates the network, so if an ISP is mismanaging data or not operating in good faith, we own the highway," Kio said. "If we get rid of this relationship, we could end this agreement if they don't play by the rules.
The advantage of this type of structure is that people covered by CUD are protected by their Vermont compatriots, Kio said.
"We are not beholden to the ISP," he said. "The ISP simply provides the services over the public network."
Construction schedule
People can still expect pole construction for the new network to take place within the next year, although Kio said he's not sure exactly what it will look like.
He said labor and supply shortages are still very real, but he is optimistic about some implementation this year and a truly successful 2023. The total planned construction schedule is 36 months, which means that NWFX expects a fully capable network in three years.
Kio said this deal with Google Fiber is a huge step forward for CUD, now that they have revenue locked in they can move the work forward as quickly as possible.
However, the work that NWFX has done so far has also been extremely rapid, registering immense growth since its inception over a year ago.
"I have to give my congratulations to Sean [Kio] and the Northwest FiberworX because they are sharp," Hallquist said.
Hallquist said Vermonters should be proud the state has committed to this rollout, adding that it's unique for a state to commit to connecting every home address to fiber.
Kio said it will take time, but he and NWFX are confident for the future.