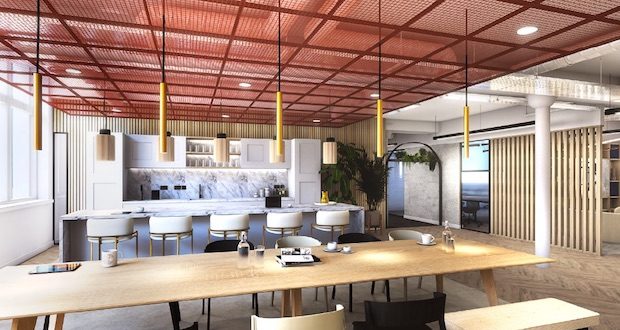 Flexible workspace provider Orega prepares to launch its fifth flexible space in Manchester
Orega has entered into a management agreement with Pictet and XLB to create a high-specification flexible workspace at the Tootal Buildings, Manchester, for launch in December 2022. The flexible workspace provider will provide 20,000 square feet of newly renovated flexible premium private workspace on a phased basis in the building, in a space designed to meet the significant demand for space below 5,000 square feet in the city center.
There will be generous shared spaces to support collaboration and privacy modules for those who need to work quietly. Additionally, Orega will provide extensive meeting and event space.
The Tootal Buildings are in Manchester's Knowledge Corridor in the bustling Oxford Road area of ​​central Manchester and are close to all major transport links such as the Metrolink at St Peter's Square and the train station of Oxford Road.
The buildings, which have received a Very Good certification from BREEAM for a sustainable built environment, are the fifth flexible workspace Orega has launched in Manchester. It comes shortly after the completion of a 10-year management agreement to create 26,000 square feet of high-specification flexible workspace at 1 Balloon Street, Manchester, which will open in September 2022.
Orega now offers flexible spaces from 19 locations across the UK and is the UK's leading provider of flexible workspaces under management contracts (as opposed to leases).
Ben Hutchen, Property Director at Orega, commented: "With five flexible workspace centers in Manchester, we believe we are responding successfully to the growing businesses in the city that are looking for a flexible way of working; a trend that we believe will become even more in demand with the current economic and political uncertainty and corporate reluctance to be tied to emphyteutic leases.
"Our revolutionary management agreement model allows our owner partners to get the most out of their premium office space while allowing them to retain control of their assets and brand."
Tony Lawson, Partner at XLB, said: "This recent rental demonstrates the importance the occupants place on providing the right environment for their staff and their business. Tootal buildings offer a great place to work, they have an active tenant community and strong underlying ESG credentials.