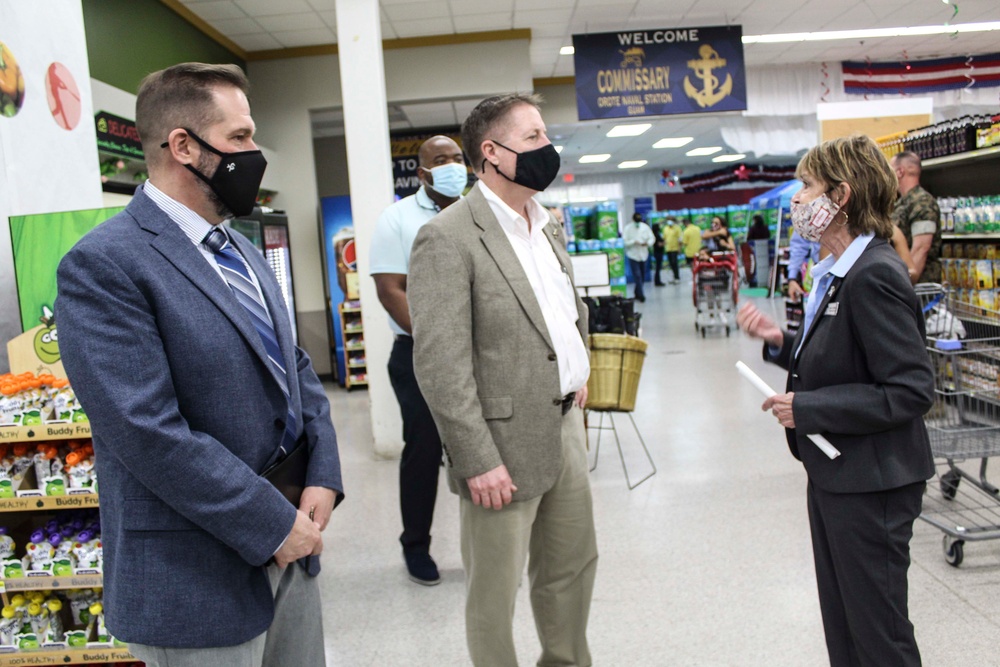 DVIDS – News – Defense Commissioner Agency Director and CEO visits Commissioner d'Orote
NAVAL BASE GUAM (Feb. 11, 2022) – Defense Commissary Agency (DeCA) Director and CEO William "Bill" Moore visited the Orote Commissary to meet with leaders and Local commissary employees evaluate operations and discuss initiatives for the store aboard Naval Support Activity Guam, Feb. 9-10.
After serving at Department of the Army Headquarters as Senior Assistant to the U.S. Army Deputy Chief of Staff for Logistics, Moore was named Director and CEO of DeCA in August 2020. .
Its oversight covers operations in 45 states, two territories and 13 countries – nearly 240 commissioners with a staff of more than 13,000 and annual sales exceeding $4 billion.
During an interview with Moore, he discussed the future of Commissioner d'Orote and how DeCA is working to overcome global challenges, including the COVID-19 pandemic:
Q1. What is the reason for your visit?
A1. Since becoming Director and CEO of DeCA, one of my top priorities has been visiting our Commissioners to see our amazing employees as they deliver the benefits, as well as meeting our deserving patrons, especially in our overseas and remote US locations. I do these tours with my Senior Enlisted Advisor, USMC SgtMaj Michael Saucedo. Together, our intention is to recognize their hard work and also see where we can best help them from our headquarters in Virginia.
We only provide the vital benefit of stewardship in our stores – the rest of us are here to make our stores successful! The COVID-19 pandemic has made travel difficult, but we were finally able to visit the Orote Police Station and recognize the outstanding work our employees at the police station do to provide the benefits of the police station to your community.
Q2. What do you hope to accomplish during your visit to Commissioner d'Orote?
A2. I want to tour the facilities, but more importantly, I want to talk to our employees to see firsthand how they are doing and how we can help them provide Commissariat benefits to our service members and their families in Orote. We are also looking for innovations and best practices that we can share with all of our commissaires. I am amazed by some of the remarkable initiatives I have discovered while visiting our stores – the "front lines" of our mission!
Q3. What kind of upgrades are in store at the Commissary? How will this benefit customers?
A3. We are delighted to have rolled out our new Commissary CLICK2GO online shopping with curbside pickup in all of our stores worldwide. We also offer online payment everywhere we have upgraded our point of sale system – currently in 80% of our stores and we will upgrade the rest this summer. We also plan to offer delivery services – we are set to test this in 8 US stores later this spring and, if successful, we will rapidly roll it out globally as well. Other customer-focused initiatives include the launch of our dietitian-approved service station program at more than 170 commissaries, including an outlet at the Orote Commissary. These stations provide nutritious meals on the go that offer a healthier and more economical alternative to fast food. It's a great example of how we're shifting our culture towards customer centricity. Our customers have told us they want inexpensive, healthy, ready-to-eat options, and we provide them with what they want!
Our service stations are one of many stewardship initiatives aimed at improving the health and well-being of our customers. We work diligently to provide our customers with the right combination of products and resources to support their wellness goals while saving big at checkout. These resources include the following:
"Thumbs Up Dietitian-Approved" labels on shelves allow customers to quickly identify high-quality, nutritious foods to incorporate into a healthy diet
"Think Outside the Box" recipes that offer quick, healthy and economical meal solutions with ingredients typically offered at increased savings for our customers.
Meal Planning: To simplify meal planning, DeCA has created two dietitian-approved dinner menu plans, including weekly shopping lists, each for an entire month of family meals. These monthly menu plans are available on commissaries.com at these links:
Meal plan #1:
https://www.commissaries.com/sites/default/files/2021-02/nutrition-month-calendar-2b.pdf?fbclid=IwAR0_oBR-YQTNEKtW6mwIbMtReeqr4qc_OjoBMoVtjRjaq3zKsbMKQIyHZuo
Plan #2: https://www.commissaries.com/sites/default/files/2021-09/Meal-plan-calendar-with-links.pdf?fbclid=IwAR2t-Ru7lteLVpv42hfv7-0rL92Nj7ndqvRR9ZflA-4LGnt143xr2V45l4Y
Q4. In recent weeks there has been a delay in shipments, especially in products. While we know this affects stores in Guam (on and off base) and in the continental US, what is DeCA doing to work on shipping delays and shortages at the Orote Commissary?
A4. It's probably our biggest challenge right now and I'm frustrated that I can't do better. We have made significant improvements in the aspects of the supply chain that we control, but there are many aspects that we do not. Right now, the Defense Commissary Agency (DeCA), like every other retailer around the world, is experiencing the same level of supply chain disruptions exacerbated by the COVID-19 pandemic. Everything from manufacturer cutbacks to our orders, labor shortages in uploading/unloading products onto ships and driving delivery trucks, and more have severely affected the flow of products – not just to stores in the United States, but to our stores abroad. These disruptions have challenged DeCA's goal of having our shelves full of the products our customers need, all the time.
To help mitigate these supply chain disruptions, we are prioritizing shipments of high-demand products to our overseas locations, such as Orote, as well as to remote locations in the United States. To achieve this, we work with our distributors daily to ensure that consistent products are available to meet our customers' needs. If deliveries to overseas stores reach a critical point, we will do whatever is necessary to get much-needed products to our overseas stores – even by airlift if necessary – to serve our customers as best we can. can.
Currently, product flow to our overseas stores is below desired levels, but it is smooth.
Q5. What message would you like to convey to the customers of the Economat, some of whom
Who cares about shortages?
AT 5. I would like to tell them that these supply chain disruptions are unprecedented in the entire grocery industry, and all suppliers, as well as distributors, are working hard to improve product flow. DeCA will do everything in its power, in partnership with our suppliers, to bring the products to the shelves. We will continue to prioritize our overseas and remote locations for the products we receive.
Be confident – supply will improve as the effects of the pandemic abate. If they happen to see empty shelves in the store, be patient; often the store will be restocked the next day! Finally, don't be afraid to ask an employee or manager – they may be able to tell you how soon we'll have the product.
Q6. Do you have a message for the Orote Police Department team and the work they have been doing during these difficult times (i.e. working with COVID, delays, etc.)?
A6. They are heroes – pure and simple – for the sacrifices they have made and the risks they have taken to continue supplying the store's commissary, despite this tragic pandemic. I just want to personally thank each of our amazing employees at the Orote Police Station for going above and beyond in providing benefits during the pandemic. These employees have been on the "front line" every day, providing this vital benefit to our most deserving customers. Their hard work and personal sacrifice is incredible and has helped us successfully complete a critical mission designated by the Department of Defense in response to the COVID-19 crisis.
Q7. Is there anything else you would like to add?
A7. Providing the commissary benefit to our service members and their families, like those in Orote, improves their quality of life – no different than my own childhood as a "military kid" with my dad being a combat veteran and a sub -career army officer.
We want our customers to know that they consistently save 40% or more on their grocery bills, if they purchase their Commissary. Imagine, just by shopping their commissary, our customers put $40 or more back in their wallet for every $100 they spend on groceries! So they get a taste of home, with the American goods they want, plus some local goods they want, all at a huge price in areas where shopping options are limited, sometimes dangerous and expensive. Nowhere is the Commissioner's Benefit more important than to our service members and their families who sacrifice for our nation while serving overseas.
| | |
| --- | --- |
| Date taken: | 02.11.2022 |
| Date posted: | 24.02.2022 18:29 |
| Story ID: | 415269 |
| Location: | we |
---
| | |
| --- | --- |
| Web views: | 7 |
| Downloads: | 0 |
---
PUBLIC DOMAIN


This work, Defense Commissioner Agency Director and CEO visits Commissioner d'Oroteby Valerie Maigueidentified by DVDmust follow the restrictions listed at https://www.dvidshub.net/about/copyright.